The reason I started offering online business management and social media strategy is because of the quote below. We can't do it all, all the time. I get it, I'm a small business owner, a mom, and a wife. I cater to business owners who want to grow their business, but don't have the time to do all of the daily "background" tasks it takes to grow your business and keep everything running smoothly.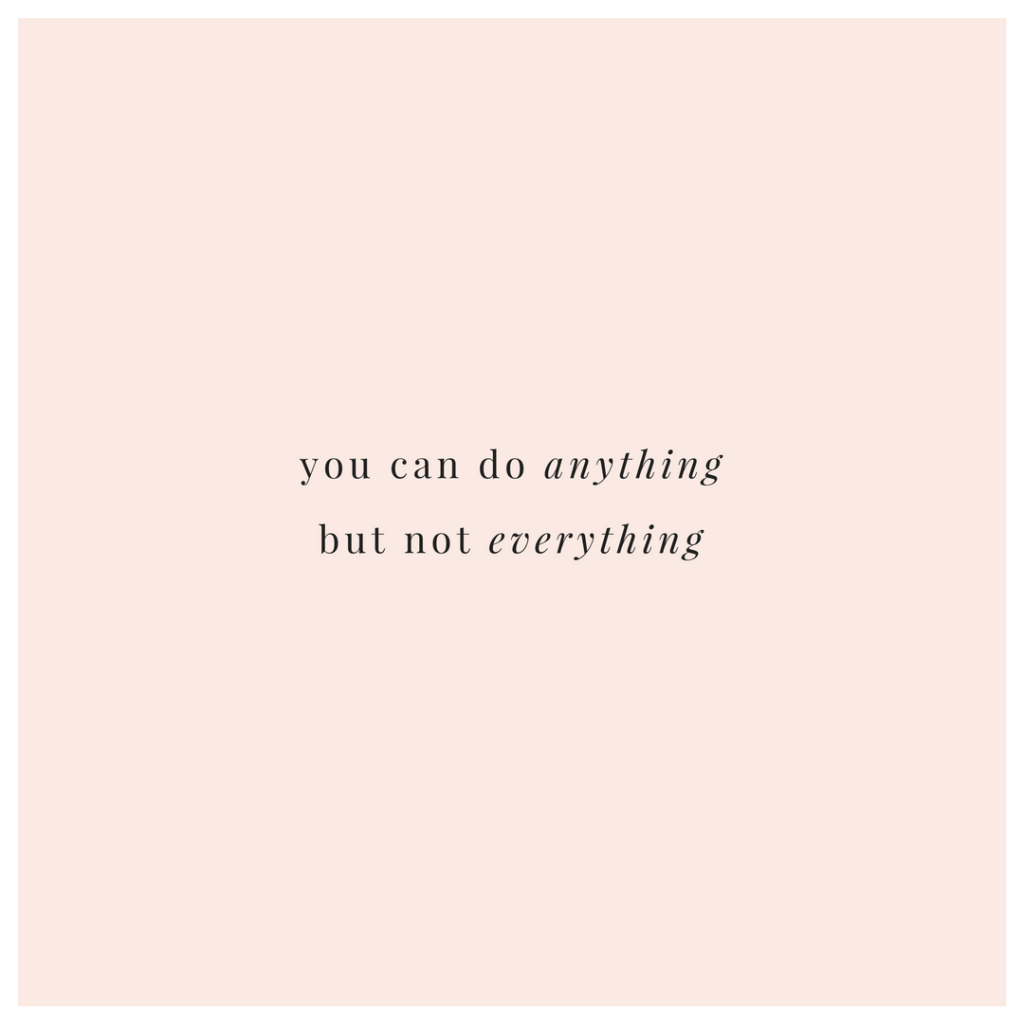 I offer a wide variety of services, tailored to fit your needs and budget. A few of my most popular services are:
Retainer Packages: Need help managing the chaos in your business? From social media, to newsletters to blog editing- I'm here to help! Retainer packages start at 15 hours per month. These are available on a very limited basis.
Social Media Management & Strategy: Let's face it, social media can be overwhelming. You are trying to manage and grow your business, while keeping up with the ever changing world of social media. Social media management is one of the first things that business owners outsource, and for a good reason! I not only stay up to date on the latest social media trends and algorithm changes, I also create and implement a strategy specifically for your brand – based on your goals! Starting at $200/monthly per platform. Social media management & strategy includes:
manage and post to your social media outlets
a customized strategy based on your brand and goals
analytics reports monthly
unlimited e-mail and chat support, during business hours
content creation and curation comment moderation and more!
Pinterest Strategy & Management: You may be wondering why Pinterest Management isn't included in my social media management above. That's because Pinterest is more of a search engine than a social platform!
Knowing how to properly manage and leverage Pinterest for your blog or business is essential to your success. Pinterest is the number one traffic referrer for may of my clients. Starting at $200/monthly, Pinterest Management includes:
600 Pins a month (20+ per day)
a customized strategy based on your brand and goals
regular analytic check ins
add request to Group Boards and Tailwind Tribes
SEO Optimization
board organization & optimization
YouTube Channel Management
Podcast Set up & Management 
Blog Management: content creation, post editing, post drafting, SEO optimization, image creation, and more! Contact me today for more details and a customized quote.
Blog Coaching: as an experienced blogger and influencer, I'm here to help you! Starting at $275/monthly
Public Relations Management: find and communicate with sponsors, ad management, giveaway management. Contact me today for more details and a customized quote.
Newsletter Management 
Virtual Assistant Coaching: Starting your own VA business or looking to gain more clients? I'm here to help! Starting at $275/monthly.
Etsy/Shopify Management: New product uploads, moderate current products, sales reports, etc.
Email Management
Online Business Management/Accounting
WordPress Site Management, Maintenance and Design